Cleaning and disinfection – often called C&D – is a process that removes and kills germs on equipment and surfaces. C&D, when done correctly, is a cost-effective way to protect animal and human health.
The resources on this page will help you:
Understand C&D principles for animal settings
Review different classes of disinfectants and their uses
Develop an effective C&D program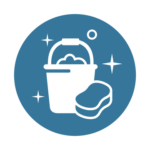 Free web-based courses on C&D
A basic and an advanced course are approved for CE credit: Cleaning and Disinfection in Animal Settings
Disinfection 101 – New update!
An overview of C&D basics, including disinfection methods, factors affecting the process, and safety considerations.
Characteristics of Selected Disinfectants
A table summarizing various chemical classes of disinfectants – microorganism impact, mechanism of action, and factors affecting effectiveness.
Antimicrobial Spectrum of Disinfectants
A table summarizing microorganism susceptibility to select disinfectant classes.