Disease causing agents can be spread from animal-to-animal and between animals and humans through a variety of transmission routes.
Select each route below for additional resources.
Aerosol Exposure
Aerosol exposure occurs when pathogenic agents contained in aerosol droplets are passed from one animal to another, or from animal-to-human. Most pathogenic agents do not survive for extended periods of time within the aerosol droplets and as a result, close proximity of infected and susceptible animals is required for disease exposure.
Resources and Information
Fomite Exposure
Fomite exposure requires an inanimate object to carry a pathogen from one susceptible animal to another. Fomite exposure often involves a secondary route of exposure such as oral or direct contact for the pathogen to enter the host. Examples of fomites include contaminated vehicles, shovels, clothing, bowls/buckets, brushes, tack, and clippers.
Traffic Transmission
A subtype of fomite exposure, traffic transmission involves a vehicle, trailer, or human, which causes the spread of a pathogenic agent through contaminated tires, wheel wells, undercarriage, clothing, or shoes/boots by spreading organic material to another location.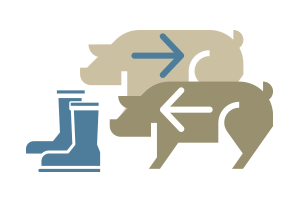 Resources and Information
Vector-borne Exposure
Vector-borne exposure occurs when an insect acquires a pathogen from one animal and transmits it to another. Diseases can be transmitted by vectors either mechanically or biologically. Mechanical transmission means that the disease agent does not replicate or develop in/on the vector; it is simply transported by the vector from one animal to another (flies). Biological transmission occurs when the vector uptakes the agent, usually through a blood meal from an infected animal, replicates and/or develops it, and then regurgitates the pathogen onto or injects it into a susceptible animal. Fleas, ticks, and mosquitoes are common biological vectors of disease.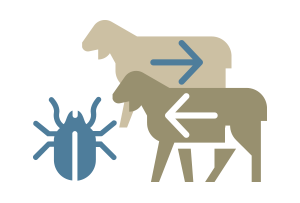 Resources and Information
Common Flies in the U.S.
This chart depicts the most common flies in the U.S., describes their breeding habits, life cycle, and how they feed on animals for a better understanding of how to control them on farm. This supplements the Fly Control Measures handout.
English Spanish
Fly Control Measures
The life cycle of flies and control measures that can be implemented.
On Farms: English Spanish
In Animal Shelters: English
Mosquito Control Measures
On Farms: English Spanish
In Animal Shelters: English
Flea Control Measures In Animal Shelters: English
Direct Contact Exposure
Direct contact exposure requires the presence of an agent or organism in the environment or within an infected animal. A susceptible animal becomes exposed when the agent directly touches open wounds, mucous membranes, or the skin through blood, saliva, nose to nose contact, rubbing or biting. It is important to note that depending on the disease agent, it is possible for direct contact exposure to occur between animals of different species, as well as to humans.
Reproductive Transmission
This route of transmission is a subtype of direct contact that encompasses those diseases spread through venereal and in-utero routes. Venereal transmission is the spread of pathogenic agents from animal-to-animal through coitus. In-utero transmission is the spread of pathogenic agents.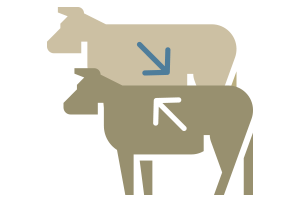 Resources and Information
Oral Exposure
Oral exposure involves the consumption of pathogenic agents in contaminated feed, water, or licking/chewing on contaminated environmental objects. Feed and water contaminated with feces or urine are frequently the cause of oral transmission of disease agents. Contaminated environmental objects could include equipment, feed bunks, water troughs, fencing, salt and mineral blocks, and other items an animal may lick or chew.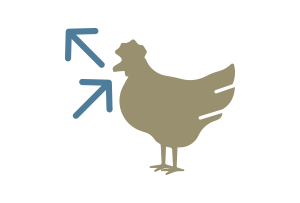 Resources and Information
Water Quality for Dairy Cattle
English
Oral Checklist
This supplements the corresponding Oral and Fomite PowerPoint and is designed to be handed out to producers after the presentation. Producers can take home this checklist and evaluate their own operation for oral disease risk.
Beef:
English Spanish
Dairy:
English Spanish
Zoonotic Transmission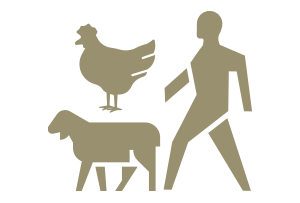 Routes of Transmission – Illustrated
These handouts use pictures to describe the ways diseases can spread from animals to humans.
Transmission Routes of Zoonotic Diseases of Companion Animals
English

Transmission Routes of Zoonotic Diseases of Livestock
English Spanish
Disease Lists
Zoonotic Diseases by Routes of Transmission: Companion Animal
This handout lists the potential routes of transmission of select zoonotic diseases from animals to humans.
English
Zoonotic Diseases by Animal Species: Companion Animal
This handout lists select zoonotic diseases that may be carried by companion animals and potentially transmitted to humans.
English
Diseases from Select Zoonotic Agents
This table lists numerous zoonotic disease agents (livestock and companion animal), the routes of transmission, human and animal clinical signs, and incubation periods.
English
[Purchase the 18″ x 27″ version]
Select Zoonotic Diseases of Companion Animals
This table summarizes numerous zoonotic diseases of companion animals, their transmission routes, incubation period, animal species affected, and clinical signs in animals and humans.
English
Bioterrorism and High Consequence Pathogens
This table summarizes information for potential bioterrorism/agroterrorism agents and high consequence livestock pathogens. It includes the route of transmission, incubation period, signs of disease in animals and humans.
English
[Purchase the 18″x 27″ version]
Transmission Route Handouts
These documents defines the five common routes of disease transmission (aerosol, direct contact, fomite, oral, vector) as well as zoonotic and environmental transmission. They can be used to supplement all of the materials to provide producers with a clear understanding of the route of transmission focus.
Specific Diseases by Exposure Route
These documents list diseases based on how they are spread (aerosol, oral, etc) and whether they are zoonotic or considered foreign to the U.S.