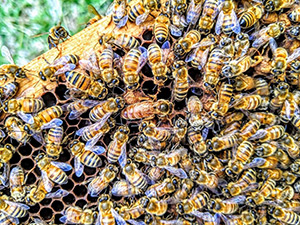 Honey bees (Apis mellifera) play a vital role in U.S. agriculture and the security of our food supply. The U.S. Food and Drug Administration (FDA) classifies honey bees as food producing animals so beekeepers must obtain authorization from a licensed veterinarian in order to use antimicrobials important to human medicine in their bees. Therefore, veterinarians are being asked to visit apiaries, examine hives for signs of disease, and authorize appropriate therapy. Veterinarians are encouraged to gain more knowledge in this area and explore potential opportunities with beekeepers to help ensure the health of our nation's honey bees.
Biosecurity Checklist
Veterinarians can offer many valuable services to beekeepers related to biosecurity and management for disease control. This checklist will assist veterinarians in conducting biosecurity and management audits of their clients' apiaries.
NVAP Module 30: The Role of Veterinarians in Honey Bee Health
This module is intended to provide accredited veterinarians (AVs) with basic knowledge of honey bee biology and beekeeping, as well as information about relevant honey bee diseases and conditions, to foster communication with beekeepers, and ensure stewardship of antimicrobial use in honey bees.