Veterinary Biologics Training Program
May 15-19, 2023 Ames Iowa
Registration is now closed.
Registration will open in February 2023
The Veterinary Biologics Training Program (VBTP) provides an overview of the USDA regulatory process for assuring the purity, safety, potency and efficacy of veterinary biologics (vaccines, bacterins, antisera, diagnostic kits and other products of biological origin). Representatives from the USDA Animal and Plant Health Inspection Service's (APHIS) Center for Veterinary Biologics (CVB) present information on the requirements and processes for licensing/registration and testing of veterinary biological products. The inspection and compliance process for production, release and post-marketing surveillance of veterinary biological products is covered in both lectures and workshops.
Professionals working in the veterinary biologics industry, researchers developing biologics, and regulatory personnel are encouraged to attend and learn about current CVB requirements. This course is a highly regarded overview of the current regulatory guidelines in the U.S. The Program is organized by the Institute for International Cooperation in Animal Biologics (IICAB) and is co-sponsored by the USDA APHIS CVB and the Iowa State University College of Veterinary Medicine.
The Program has been offered annually from 1996-2022. Over 3000 individuals have attended the program, including 876 international attendees from 96 countries.
Agenda
Day 1

Intro to the Center for Veterinary Biologics and Policy, Evaluation, and Licensing
CVB Website Overview
Quality Standards for Veterinary Biologics
Licensing Requirements
Outlines of Production
Master Seed/Master Cells/Back passage
Efficacy Requirements & Interference Studies

Day 2

Statistical Considerations for Vaccine Trials
Safety Requirements
Serial Release Testing
Potency Tests
Potency Specifications & Product Date
Jurisdiction: Products and Permits
Risk Management
Poultry Specific Licensing
Platform and Prescription Platform Biologics
US Vaccine Label Regulations
Aquaculture Biologics

Day 3

Immunomodulators
Convention Cancer Products and Autologous Cancer Products
Licensing Diagnostic Test Kits
FDA-EREA Regulations
IABS Membership Officer
Center for Veterinary Biologics Lab Overview
Label and Outline of Production Workshop
New Firms/Products

Day 4

CVB Inspection Program
Compliance Activities
Inspection Categories
Inspection Workshop
Product Inspection and Serial Release
APHIS Form 2008 Workshop
Sample Submission and Retention
Export Certification
Export Workshop

Day 5

CVB Panel Discussion
Recordkeeping, Documentation and Process Deviations
Quality Assurance, Quality Management
Root Cause Analysis Workshop
Regulatory Flexibility and Firm Requests
Autogenous Biologics
Pharmacovigilance
Registration Options
Registration for the May 2023 training will open in February 2023. Participants can register for the entire program or individual days.
Pricing
| | | |
| --- | --- | --- |
| Group | Full Program: 5 days | Single Day(s) |
| Industry | $2,200 USD | $550 |
| Government / Academic | $1,100 USD | $275 |
Upcoming training: May 15-19, 2023 Ames IA
Meals: Breakfast, lunch, breaks, and 2 dinners (Mon and Thur) are included.
Meeting location: Gateway Hotel, Ames IA
Recommended Airport: Des Moines International Airport (DSM) is 40 miles (65 km) from the meeting.
International Attendees: We will provide transportation between the DSM Airport and the meeting hotel. You must arrange your own housing at the Gateway Hotel. If your flight departs on Saturday please plan to stay in Des Moines at a hotel with an airport shuttle Friday night.

Weather: Temperature average high/low: 70/50 F (21/10 C). Rains some more than half of the days. Highs and lows can vary up to 15F/ 8C.
Smoking: Not allowed most places (hotel rooms, meeting rooms, meeting building) Only allowed in limited outdoor locations.
Shopping/Dining/Transporation: Ames is a typical Iowa town that is very spread out. Restaurants and shopping are 3-8 mi (5-13km) from the meeting hotel. There is a public bus system , but it has limited routes. You may want to plan on renting a car at the Des Moines airport or use Uber or Lyft while in Ames.

US Attendees: You may contact the Gateway Hotel, Ames IA> to inquire about housing availability.
RACE® CE: The program was approved by the Registry of Approved Continuing Education for in-person attendance by veterinarians or veterinary technicians for 35 hours of CE.
Presentations will be in English, we will provide access to the presenters' slides.
Covid-19 policies will be consistent with CDC, State of Iowa, Iowa State University, and City of Ames applicable recommendations.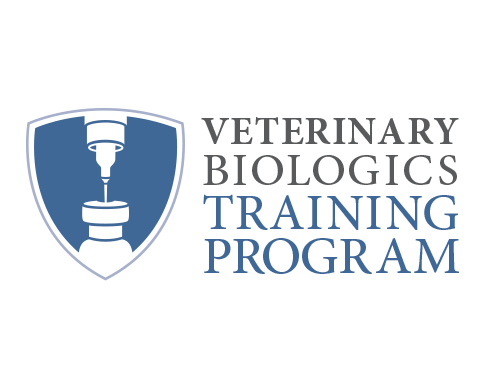 CVB
More information about the USDA Center for Veterinary Biologics
IICAB Immunology Courses
The IICAB offers three courses related to veterinary immunology and vaccinology. The courses range from a five hour introduction to more in depth study of veterinary immunology and vaccinology. This material was part of the VBTP for 15 years and can be helpful for researchers or industry personnel hoping to better understand the veterinary vaccinology.
More information