Veterinary Biologics Training Program
The Veterinary Biologics Training Program (VBTP) was been offered annually from 1996-2019. Over 3000 individuals have attended the program, including 876 international attendees from 96 countries.
The 2020 Program was cancelled due to COVID-19, but we anticipate holding the program again in May 2021. New dates will be posted and notifications will be sent.

The Veterinary Biologics Training Program provides an overview of the USDA regulatory process for assuring the purity, safety, potency and efficacy of veterinary biologics (vaccines, bacterins, antisera, diagnostic kits and other products of biological origin). Representatives from the USDA Animal and Plant Health Inspection Service's (APHIS) Center for Veterinary Biologics (CVB) present information on the requirements and processes for licensing/registration and testing of veterinary biological products. The inspection and compliance process for production, release and post-marketing surveillance of veterinary biological products is covered in both lectures and workshops.
Professionals working in the veterinary biologics industry, researchers developing biologics, and regulatory personnel are encouraged to attend and learn about current CVB requirements. This course is a highly regarded overview of the current regulatory guidelines in the U.S. The Program is organized by the Institute for International Cooperation in Animal Biologics (IICAB) and is co-sponsored by the USDA APHIS CVB and the Iowa State University College of Veterinary Medicine.
Registration and detailed information for the upcoming VBTP will be added here when available
Participants can register for a single day or the entire program. In 2019, the program was approved for 30.5 hours of continuing education for veterinarians or veterinary technicians in jurisdictions which recognize AAVSB RACE approval. AAVSB RACE approval will be requested for each program.
While the VBTP agenda varies each year, a sample agenda is below.
| | |
| --- | --- |
| Mon | Intro to CVB* and PEL*, Quality Standards for Veterinary Biologics, Licensing Requirements, CVB Website Overview, Outlines of Production, Master Seed/Master Cells/ Backpassage, Efficacy Requirements |
| Tue | Statistical Considerations, Safety Requirements, Serial Release Testing, CVB Lab Overview, Test Validation, Label Requirements, Regulating Biotech Products, SIF*/ Risk Analysis, Platform and Prescription Platform Biologics, Aquaculture Biologics, Poultry Specific Licensing |
| Wed | Immunomodulators, Autologous/Cancer, Importation of Products, FDA-EREA Regulations, Licensing Diagnostic Test Kits, New Product Review, USDA NCAH Tour |
| Thu | Introduction to IC*, CVB Inspection Program, Compliance Activities, Inspection Categories, Inspection Workshop, Product Inspection and Release, APHIS Form 2008 Workshop, Export Certification, Export Workshop, Pharmacovigilance |
| Fri | CVB Panel Discussion, Quality Assurance, Quality Management, Recordkeeping, Root Cause Analysis Workshop, Regulatory Flexibility and Firm Requests, Autogenous Biologics, Sample Evaluation Workshop |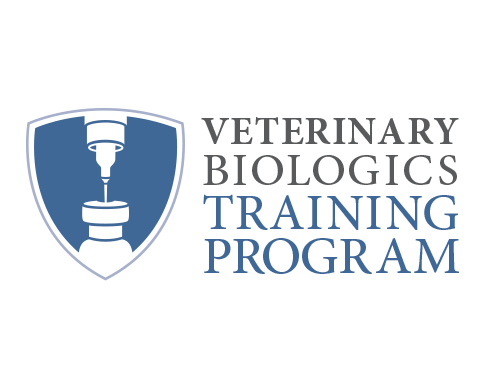 CVB
The Center for Veterinary Biologics implements the provisions of the Virus-Serum-Toxin Act (VSTA) to assure that pure, safe, potent and effective veterinary biologics (vaccines and diagnostics), are available for the diagnosis, prevention, and treatment of animal diseases. The CVB works to:
• Ensure that biologics are free of disease producing agents, especially foreign animal diseases
• Develop appropriate standards and procedures for product release
• Issue licenses and permits
• Monitor and inspect products and facilities
• Control field tests and release of veterinary biologics
IICAB Immunology Courses
The IICAB offers three courses related to veterinary immunology and vaccinology. The courses range from a five hour introduction to more in depth study of veterinary immunology and vaccinology. This material was part of the VBTP for 15 years and can be helpful for researchers or industry personnel hoping to better understand the veterinary vaccinology.
More information